The singing fountain again begins to sing on April 30th 2019
18. 3. 2019 -
The singing fountain belongs to prominent features of Mariánské Lázně. It performs daily from 7 a.m. to 7 p.m. every odd hour and at 9 p.m. and 10 p.m. its 'singing' includes a projection with coloured illumination.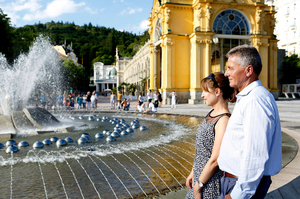 The opening ceremony takes place on April 30th at 9 p.m. and the final performance is to be seen at the turn of October and November.
The singing fountain is composed of a round pool (18 metres in diameter) and a twelve-piece stone sculpture of a stylized flower with a polished steel centre. It has ten basic jetting systems with over 250 nozzles, the middle nozzle gushing six metres high. The operation of the fountain is fully computer-controlled, which enables to create interesting jet combinations including coloured illumination. The author of the art design is Master of Architecture Pavel Mikšík.