The ROYAL Hotel is opening a Javanese Massage Parlour
4. 4. 2016 -
The spa ROYAL Hotel incessantly improves on the care for its clients and brings them the best of the complete spa care both for the body and soul. From April you can thus order and enjoy newly offered Javanese massages.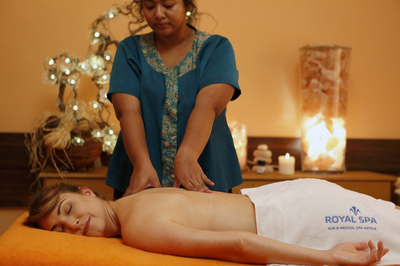 Entrust yourself to Javanese masseuses
Javanese Massage Parlour in the ROYAL Hotel
Discover the power and joy of traditional Javanese massages that have been being developed by Indonesian culture for centuries. Javanese massages combine relaxation and overall release of muscle tension, which brings a wholesome effect on the physical body build. The Java Parlour can boast about above standard services in traditional Indonesian environment provided for by Javanese therapists who posses a top level certificate. Come and try for yourself to lift the veil of mystery of physical and mental beauty hidden in Javanese massages.
Java Parlour offer
We believe that there is something for everybody in our new parlour. You can choose from several types of massages, which include for example:
Javanese massage – It is exceptional for its very strong pressure applied on muscles to the extent of the total release of muscle tension. During the massage, masseurs work on the complete body, starting from the toes up to the roots of hair.
Sumatra massage – By means of a combination of special techniques and acupressure, it relaxes tensed muscles and their pain. The Sumatra massage is a unique tool for releasing stress, it helps to fight sleeplessness and is very relaxing.
Borneo massage – It is a specific massage which combines deep techniques and lymphatic drainage. It releases tension, brings about a feeling of relaxation and primarily helps to fight cellulite and to firm up your body.
Volcanic stones therapy – Warming up special points on the body and gentle massaging by warm stones accompanied by the aroma of essential oils supplies your senses with a perfect equilibrium. The vibrations and warmth of the stones affect the energy pathways in your body, they positively influence the mind and wonderfully release tension of your muscles.
More information about the massages including pricelists and booking to be obtained at the reception of the spa ROYAL Hotel. To book, you can also call 354 618 111 or contact us by e-mail: recepce@royalmarienbad.cz
Get inspired and take a lot at our photo gallery.