Do you know the vicinity of Mariánské Lázně? Part 2: Teplá Monastery
7. 5. 2018 -
At the Teplá River, in the Tepelská Highlands in the west of Bohemia you can find the town and monastery of Teplá, which are situated not far from Mariánské Lázně. As early as the beginning of the12th century, a Slavic fortified settlement probably lay on the place and in 1385 the settlement of Teplá was granted town privileges.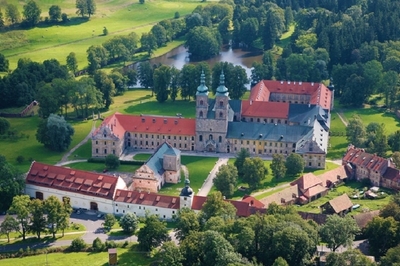 Teplá, however, is primarily famous for its Premonstratensian monastery, which was founded in 1193 by Czech nobleman Hroznata, who immediately afterwards sent for Premonstratensian monks from the monastery of Strahov in Prague. Hroznata came from an important noble family and held the post of the commander of frontier guards in the regions of Teplá and Chodsko. The story of the monastery foundation is connected with the third crusade arranged by Henry VI. In March 1188 Hroznata decided to participate in this crusade but in April 1191 he was – along with other noblemen – dispensed from it by the Pope. In compensation, he promised to establish a monastery.
Why don't you go and see it for yourself and discover the charming vicinity of Mariánské Lázně.